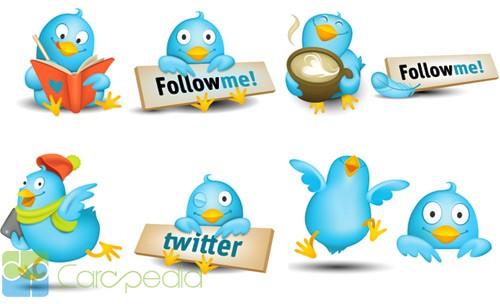 In addition to Facebook, Twitter is one of the most influential social media in the social life of most people. If you are one of those people who like to \"sing\" social media on this one, you must already know what the advantages of social media that gives you 140 characters to share your thoughts. Nah, but because of the ease and freedom that exist in this Twitter, it now appears many of the problems that come from social media bearing the blue bird. Ranging from defamation to spy on a person\'s activities can occur in Twitter.
To avoid the various problems that can arise from social media, there is nothing wrong if you follow a few suggestions that unfolded below;
Skeptical
Twitter does have a significant sign of Verified Accounts are free from viruses and hackers, but that does not mean you have to memfollow all accounts that already have signs Verified. So make sure you memfollow someone because of tweet-tweet he wrote, not only because of the avatar alone.
Oiya, other than that, you have to be careful with hackers who often hijack accounts to spread spam and scam as well as links that lead to malware sites so that your personal data can be stolen. Typically, these malicious links provided via Direct Message (DM), which comes from the account you know. You should never click on any links sent to DM you unless you really know the link in question.
Just log on Twitter.com
As you know, Twitter is very open premises or third-party developers. Not surprisingly, until now a lot of sites that you can use to open your twitter account. This makes users like you will be vulnerable to cyber crimes as you might so easily be entering the login data to foreign sites.
Fortunately, now Twitter has changed its policy in which the user must go through a process called OAuth before finally connected with the intended application directly.
Use strong passwords
Get used to use different passwords for each account, but it\'s good when you make a fairly complex passwords and use a combination of letters and numbers.
Use software that qualified
Make sure you are equipped with internet security software update system, so that when you open a site that tries to insert malware on your PC will not work.
Keep your account remains \"clean\"
If you once allow an application to access your account, then access will be open on until you turn it off. It can berpotensu the security hole and it is possible that application owners can access your DM. Therefore, you should be diligent audit your account. You do this by clicking on \'settings\' and \'connection\' and select \'REVOKE acces\' on all the applications you use.
Beware of scam
Do not ever get caught in a scam claiming to be from a bank or PayPal and ask for your financial information. Do not be too easy to believe the scenario that offers asking for money you get a lot of followers in a short time.
Protect privacy
What will you post on Twitter will be \"timeless\" even if you have to remove it, so should you should consider carefully before you send your tweet. Do indulgence in bad habits through Twitter and also avoid dividing sensitive information including telephone number.